Lately I have been watching
Royal Recipes
on the Lifestyle Food channel on Foxtel, but have mostly found the recipes decadent, unappetising or just too much work to bother! This one however, caught my attention, as both delicious looking and manageable.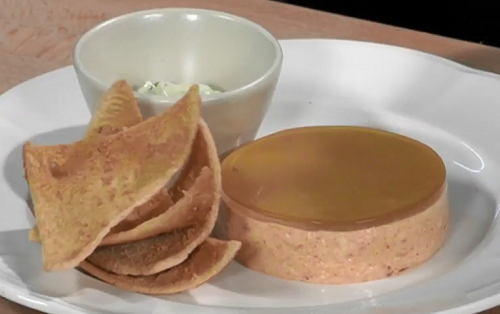 Unfortunately, I was not able to get the exact recipe from the show, probably because they want us to buy the
cookbook
, but that's not going to happen, so this is my best estimate.
CRAB MOUSSE WITH SAUCE REMOULADE
Ingredients
Mousse
2 sheets leaf gelatin
cold water
2 cups fish stock
1 1/2 cups brown and white crab meat
1 1/2 tbsp mayonnaise
1 tsp paprika
3/4 cup double cream
Sauce
2 tbsp mayonnaise
1 tsp Dijon mustard
1 tsp chives
1 tsp tarragon
1 tsp lemon zest
Melba Toast to serve
Method:
1. Soak gelatin in cold water until soft. Warm fish stock on stove, gently squeeze out gelatin and add to stock, stirring until dissolved. Remove from heat and allow to cool. Chill until slightly jelly-like, but still pourable consistency.
2. Mix together crab meat, mayonnaise, paprika and 2 large tbsp of the chilled and thickened fish stock. Add double cream and fold together gently until well combined. Place mixture into circular moulds on a lined tray, smooth down top and refrigerate for 1 hour to set.
3. In a separate bowl mix together sauce ingredients - mayonnaise, mustard, chives, tarragon and lemon zest. Spoon into small serving bowl.
4. Take mousse out of fridge and pour chilled and thickened fish stock on top of mousse until approximately 1 cm thick. Return to drive to chill until set.
5. Demould mousse onto plate and serve with Melba Toast and Sauce Remoulade on the side.